Stress Incontinence Cure by Tension-free Vaginal Tape (TVT) or Transobturator Tape (TOT)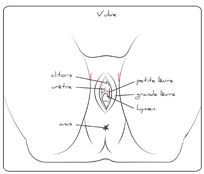 Surgical procedure
This surgery seeks to lift the urethra, and to remain it close with no accidental release of urine during activities that put pressure on your bladder.
A mesh is placed under your urethra like a sling or a hammock to keep it in normal position. The mesh will allow urethra to stay close during any activities putting pressure on it (like coughing or laughing).
---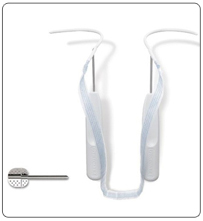 This surgery can be performed either with a general anesthesia or a regional anesthesia (spinal or epidural block). A tiny section is made on the anterior face of the vagina, and two other tiny incisions are made on both sides of the major labia (at the high level of the thigh).
The mesh is positioned with needles, just under the urethra, and stand out on the internal faces of the major labia. It is sectioned as close as possible to the skin, and then incisions are sutured.
It may be necessary to have a thin flexible tube (catheter) placed into your bladder to allow urine to drain. You will spend 2 hours in the recovery room under post-operative supervision before going back to your room. This surgery can be performed as an outpatient procedure, and a 1-week work leave must be planned.
---
Risks & Complications
In spite of the meticulous surgery technics, it is not possible to guarantee neither therapeutic success nor a total absence of any complications.
During Surgery
- Abdominal opening: during the surgery, abdominal opening may be required. A general anesthesia will then be given.
- Bladder wound: risk of any bladder wound is more exceptional. In this case, a bladder catheter will be installed for few days, and your hospital stay will be longer. This will not interfere on the surgery result.
- Lesions of an organ: this can exceptionally happen. Urethra wound, intestinal organs or blood vessels wounds will require a specific surgical assumption.
- Blood loss: may rarely lead to a blood transfusion
Post surgery
- Blood hematoma or abscess: it will require local cares, but a surgical removal may be an option.
- Difficulty urinating after the surgery: a medical treatment can be given, and if required a catheter will be installed. If difficulties are persistent, the removal of the mesh may be necessary.
- Healing process troubles: defect of the vagina healing may be noticed during the post-surgery visit to your doctor. Another light surgery may be required in order to remove the visible part of the mesh, and in some rare cases, remove the entire mesh.
Last update: 10/2/2013
---