Clinical and biological examination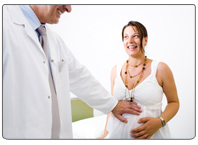 Monitoring pregnancy consultations
1st consultation – before the end of the 3rd pregnancy month – will allow:
To set up the medical file
To realize clinical examination
To prescribe any supplement examination and needed treatment
To inform you about the pregnancy and its development
To give you advise for a healthy life style
To fill in the pregnancy declaration document.
Following visits
A monthly consultation is planned and fully reimbursed by French Medical Welfare System (CPAM). This consultation aimed monitoring a good pregnancy development, realizing a clinical exam, prescribe supplement examination and needed treatment when required.
Please keep with you all previous useful documents for the pregnancy monitoring (medical information, blood group card, biological examinations, ultrasound examinations, vaccine record).
Pre-anesthetic visit
This visit is mandatory and usually fixed during the 8th months of pregnancy.
Even if you do not require any epidural block for the delivery, the anesthetist will fill in your medical file, present you all available or required anesthesia regimes for the delivery.
Obligatory biological tests
Blood group
Research of regular antibodies (every month if negative rhesus)
Rubella status
Syphilis status
Toxoplasmosis status (if not immunized)
Hepatitis B status
Complete Blood Count (CBC)
Sugar (glucose) and albumin (protein)
Biological tests suggested
HIV status
Hepatitis C status
Screening test for Trisomy 21 (combined and sequenced serum markers) with ultrasound exam of 1st trimester
Gestational diabetes screening
Streptococcus B by vaginal smear (during 8th or 9th month)
Last update: 10/2/2013
---