Packing list for childbirth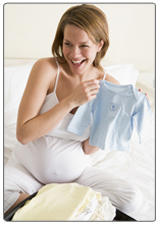 Pack for the delivery room
Personal belongings:
First clothes for your baby (pyjama and/or comfortable baby clothes, singlet, wool jack, booties, soft cap)
Your personal clothes, underwear (bra, 2 packs of disposable knickers), toiletries (towel, soap, toothbrush, toothpaste, water spray, paper handkerchiefs...)
Administrative & medical documents
Blood group card (certified after 2 exam with the same name)
Your pregnancy notebook (with all exams realized)
Your French Public Welfare System card or certificate (Carte Vitale)
Your Mutual Health Care company certificate
Your family record book or your ID card
If any, advance recognition document when parents are not married.
Pack for your hospital stay
For you
Your toiletries and towels
Pyjama, night-dresses
Bathrobe and slippers
Underwear: maternity bra, disposable knickers, sanitary napkins
Napkins
If your planning to breastfeed
Maternity bras
Comfortable clothes that can be easily open at the front
Breast milk collectors : these will be very useful when you leave the hospital
For your comfort plan to have breastfeeding cushion
For your baby
For comfort and health of your baby you will need to have several clothing
1 baby sleep bag
7 cotton singlets and 7 pyjamas, and other clothing for your hospital stay
2 wool vests
2 wool booties (even during summer)
A soft cap (wool)
Baby bibs
Paper handkerchiefs
A small soft hairbrush
Nappies
When you leave maternity
Complete outfit, including cotton singlet.
Baby sleeping bag, or blanket or baby suit according to the weather
An installed car seat, even for short journey, so your baby will enjoy comfort and security for every journey.
Last update: 10/2/2013
---